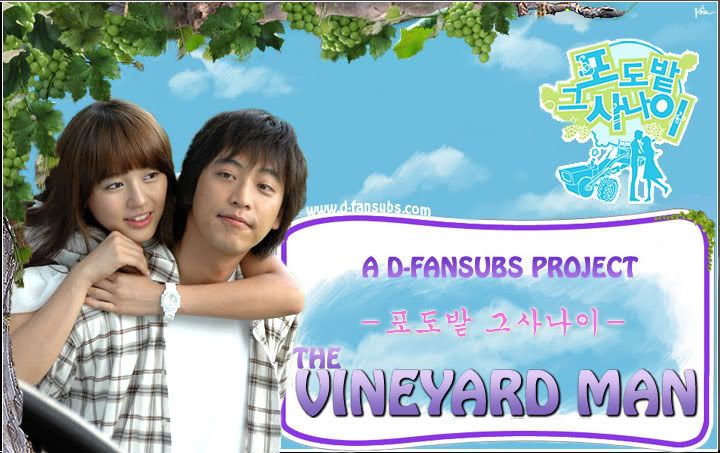 credit this wonderful artwork to Haesin
Brief Summary:
The Vineyard Man is a romantic-comical drama that revolves around the life of Lee Ji-Hyun (Yoon Eun Hye), a typical average girl who wants to show the world that beneath her seemingly ordinary characteristics is an extraordinary girl who will some day achieve great things and marry a rich and handsome man. Ji-Hyun is a striving young designer working in a clothing company, hoping that one day, her works will be recognized and have her own label. Her life changes when she decided to farm her grandfather's vineyard and meet Jang Taek-Gi (Oh Man Suk), a nice and honest man working in the vineyard to help his father.
Cast:
Yoon Eun Hye
as Lee Ji Hyun
Oh Man Suk
as Jang Taek-Gi
Kim Ji Suk
as Kim Kyung-Min
Airing:
July 24, 2006
Genre:
Romance-Comedy
Broadcast network:
KBS2
Episodes:
16
Official Site:
Official Website
SUB CREDITS:
Episode 14
Translator:
ai*
Timer:
buffyreg
Spot Translation:
KBS World
Transcriber:
julier
Editor:
julier
QC:
Athaclena42
Coordinators:
allredndizzy & Athaclena42
Encoder:
Athaclena42
Credit Clubbox Uploads:
http://clubbox.co.kr/creidesca
http://clubbox.co.kr/SkaraT
Please support D-Addicts OR Soompi with your generous donations.
THANK YOU!!!
:wub:
Please request seeding at the "SEEDING & UPLOADING REQUEST" thread.
D-Fansubs Team WILL help seed the corresponding episode as the subs are released.
Thank You!