Shanghai Bund (新上海滩 / Xin Shang Hai Tan)
Episode 2 of 42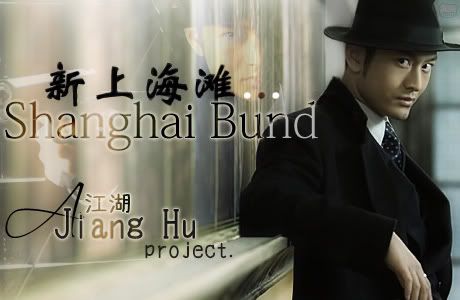 Thanks to miSHKA for the awesome banner!
Cast:
Huang Xiao Ming as
Xu Wen Qiang
Sun Li as
Feng Cheng Cheng
Li Xue Jian as
Feng Jing Yao
Huang Hai Bo as
Ding Li
Chen Shu as
Fang Yan Yun
Sha Yi as
Chen Han Lin
Wiki Link (Plot details/Spoilers!)
Shanghai Bund Discussion Thread
Jiang Hu Wiki Page (Check our progress here!)
Credits:
Translator:
Ueda Jiro
Timer:
Ueda Jiro
Editor:
Athaclena42
QC:
Athaclena42
Karaoke:
aku-kitsune
Karaoke Effects:
Nawidy
Encoder/Style:
Athaclena42
Video Info:
Video codec:
XviD
Audio codec:
Lame Mp3 (192kbps bitrate)
Resolution:
640x384
Video length:
48:11 minutes
Some things have been changed, such as the font colors for the subtitles, because I tthink they fit the overall feel and theme of the show better than the color scheme for the first episode. In addition, the majority of (overly long amount of) time spent on this episode was during the encoding process, which I am still struggling with. The DVDs are PAL and from China and are only partially interlaced with obvious quality issues that I am doing my best to improve. If there are any very experienced encoders out there that wish to provide any suggestions as to how I might improve this video further, please let me know by PMing me. Kindly please remember that the video quality of the DVDs is maybe B, so I don't have as much to work with as I would like. However, these are the best quality DVDs available for this series. Thanks for bearing with us, and we will strive to bring you more episodes of this excellent series as soon as possible!