[MBC] Me Ri, Dae Gu's Attack and Defense Battle / 메리 대구 공방전
Episode 1 of 16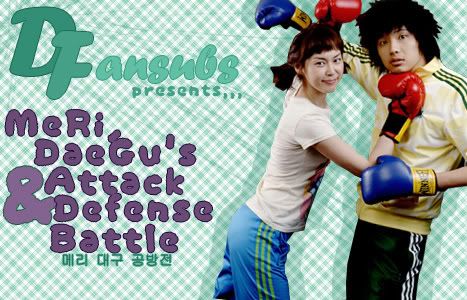 Casts:
Lee Ha Na as
Hwang Me Ri
Ji Hyun Woo as
Kang Dae Gu
Lee Min Woo as
Seong Do Jin
Wang Bit Na as
Lee So Ran
Synopsis:
Ji Hyun Woo basically comes out as 'Kang Dae Gu' a chivalry novelist who writes stories about martial arts, but he's in fact jobless. And before he became like this, he was a law student. But while he was preparing for his bar exam, he witnessed his lawyer friend commit suicide. After that incident, he threw away his hopes and dreams and became a writer.
Lee Ha Na plays 'Hwang Me Ri' who is a snack vendor who dreams of becoming an actress. Although she is unable to be successful in her auditions, Me Ri still remain an optimistic person like her nickname "Merry" as she was born on Christmas day. She's the type of person always repays the 'kindness' that others give to her. One day, her world began to start crumbling down when she encounters 'Kang Dae Gu' the chivalry novelist who is younger than her by a year. Since then, both of them are always bickering whenever they meet which leave their same neighborhood neighbors in constant headaches.
Wang Bit Na plays 'Lee So Ran'. She is known as the plastic beauty, or in other words "Plastic Paris Hilton". She's snobby and totally fixed her face with plastic surgery, though it turned out very natural. She lives her life similar to Paris Hilton. She has a unique taste in men. One day, she meets a nameless novelist named Kang Dae Gu (Ji Hyun Woo) and falls in love with him. Thus, she begins to make plans to make Dae Gu all hers.
Lee Min Woo plays 'Seon Do Jin' who works as a middle school teacher. He's also Me Ri's first love/ classmate in elementary school and Dae Gu's school senior. He begins to 'stick' around Me Ri's side to help her out as he pities the situation that she's in.
Credits: Sandy @ Purpletiger86
Me Ri, Dae Gu's Attack and Defense Battle MBC Official Site
Soompi
Me Ri, Dae Gu's Attack and Defense Battle Wiki
Clubboxes to Download:
WITH S2
Creidesca2
moviesamo
D-Fansubs Subbing Status:
D-Fansubs Wiki